Macy's is one of the most popular clothing stores in the United States, here you can find clothes for both women and men, but what stands out the most about this store is its section for women because it has a wide range of offers in women's clothing. 
Macy's has many garments that tend to be very popular among its customers and that is why in this article we want to bring you the 10 most popular and best-selling dresses at Macy's so far this year 2022.
Macy's dresses
Many of these dresses have quite striking prices, but others are a little more expensive, so we recommend you choose the one that not only suits you, but also your budget.
Juniors' Tiered Tie Bodice Dress
This is an ideal dress for all those who want to show off a spectacular silhouette, the dress features layers and ruffles from City Studios with a front slit and a knotted bodice.
It has a concealed back zipper closure, round neckline with a fitted and flared silhouette, short sleeves with ruffles at the cuffs being fitted through the chest and waist with a flared and flowing skirt.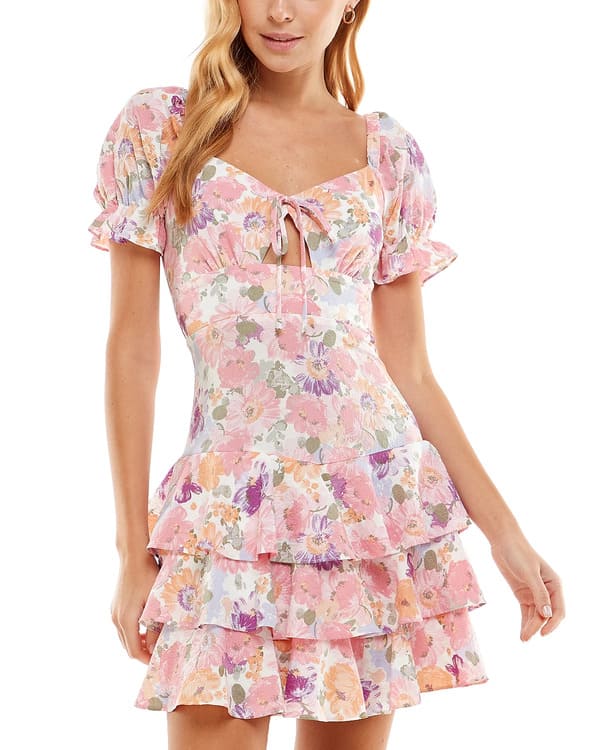 Juniors' Printed Puff Sleeve Sheath Dress
Show off a sexy silhouette with this beautiful floral dress from Macy's, available in sizes XXS, XS, S, M, this dress has the following features: back zipper closure, Short puff sleeves, Keyhole and tie at front neckline.
This dress with a bohemian touch keeps you fashionable, ideal to wear with heels to give the appearance of long legs.
City Studio Juniors' Tiered Babydoll Dress
An ideal dress for any occasion with a flower decoration that gives a delicate but striking touch to combine with any type of footwear.
This dress has the following features, concealed back zipper closure, tiered skirt along with a cutout detail and bodice bow. It is a fitted dress in the chest and waist along with a flowing flared skirt.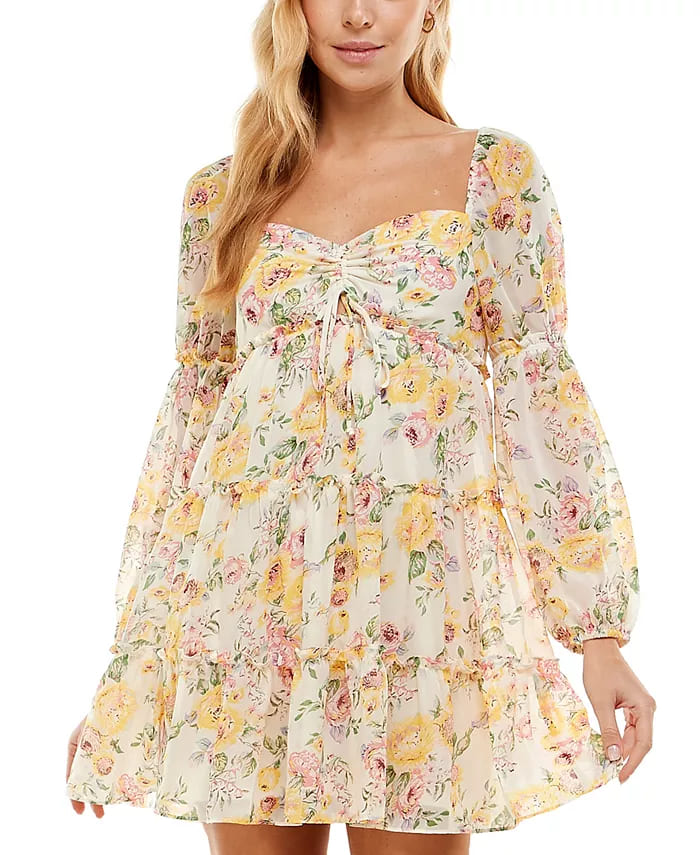 Floral Print Off The Shoulder Maxi Dress
A dress with a delicate touch ideal for everyday wear, it takes inspiration from the Willow Drive peasant style and complements the dress with an all-over waterfall effect.
This dress has the following features: elastic waist with a ruffled neckline and bare shoulders along with a tiered hemline, 3/4 sleeves with a jersey style b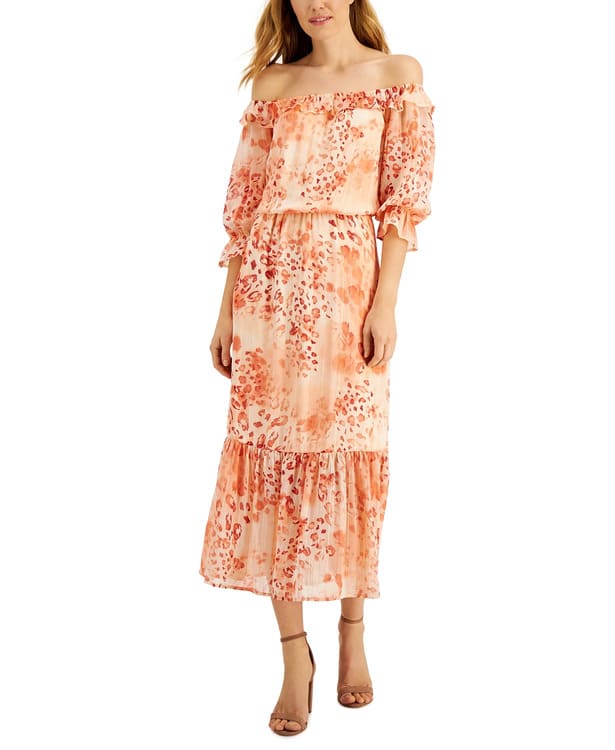 Juniors' Printed Tiered A Line Dress
A cute floral print dress with billowy sleeves with all the hallmarks of the season. This dress has an empire style designed waist and ties in the back.
This dress has the following features: V-neck, back zipper closure with a keyhole button closure, short flutter sleeves being fitted through the chest and waist.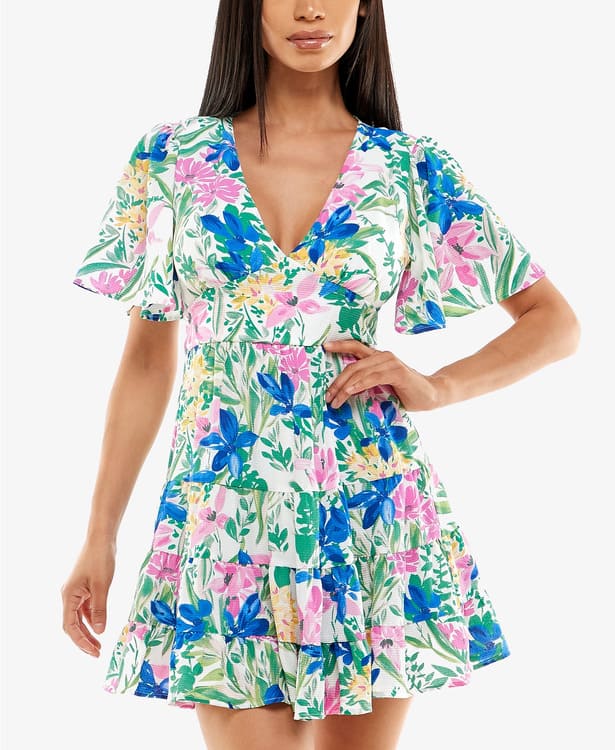 Juniors' Night Bloom Blouson Sleeve Maxi Dress
This is a spectacular long flowing dress which features a floral print and wide blouse style sleeves.
The dress has the following features: plunging V-neck with a fitted panel at the waist and long jersey style blouson sleeves.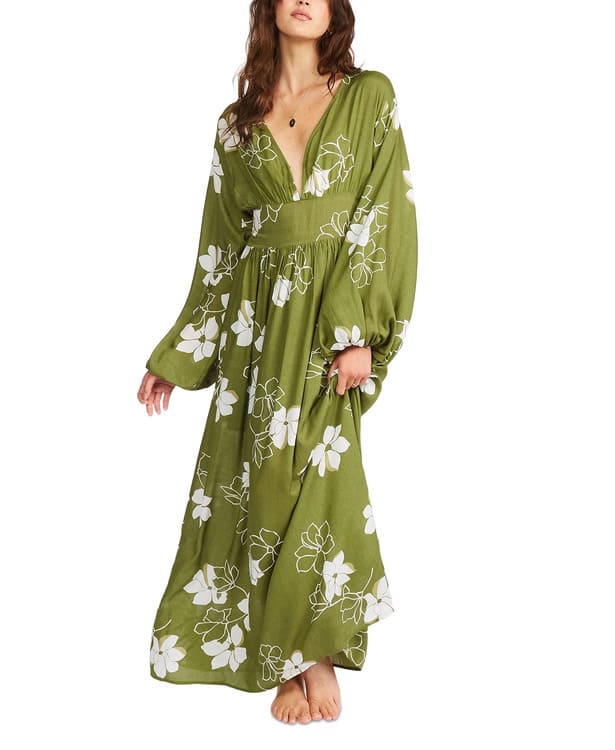 Floral Print Smocked Dress
An ideal dress to enhance your feminine style, it has a CeCe floral print accented by a ruffled trim.
The dress has the following features: Concealed zipper with hook and eye closure in the back, a mock neckline along with ruffled and cuffs at the tiered hem.
Puff Sleeve Mesh Embroidered Dress
An elegant dress with embroidery ideal for any party or important celebration.
This dress has the following features: V-neck with a-line silhouette, ruffled hem, back zipper closure and embroidered fabric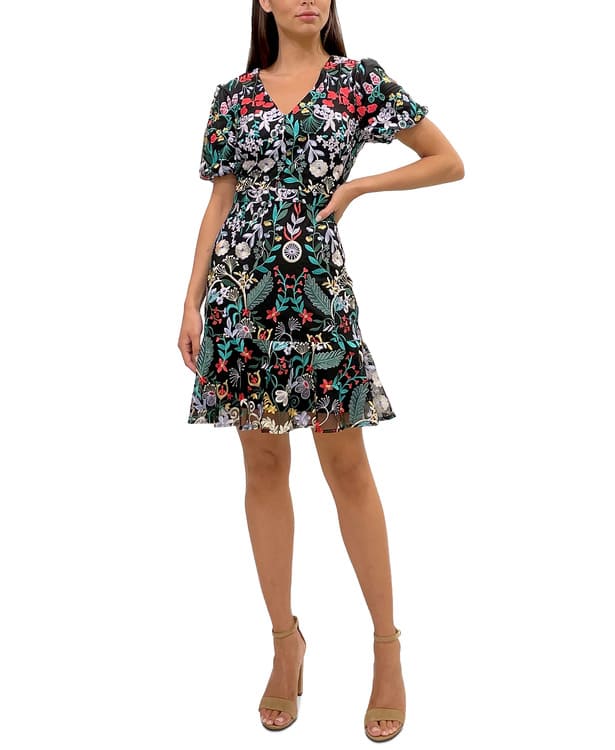 Juniors' Printed Ruffled Fit & Flare Dress
A soft and very sweet mini dress splashed in delicate flowers and masked by long sleeves, ideal for any formal or informal occasion.
This dress has the following features: lined body, bow at the waist, layered ruffled skirt and long sheer balloon sleeves with elastic cuffs.
Juniors' High Low Off the Shoulder Dress
Beautiful and delicate neckline dress with bare shoulders to its high and low hem, a long dress from Kingston Grey ideal for any occasion.
This dress has the following features: short sleeves with flounce, drawstring waist, high-low jersey hem.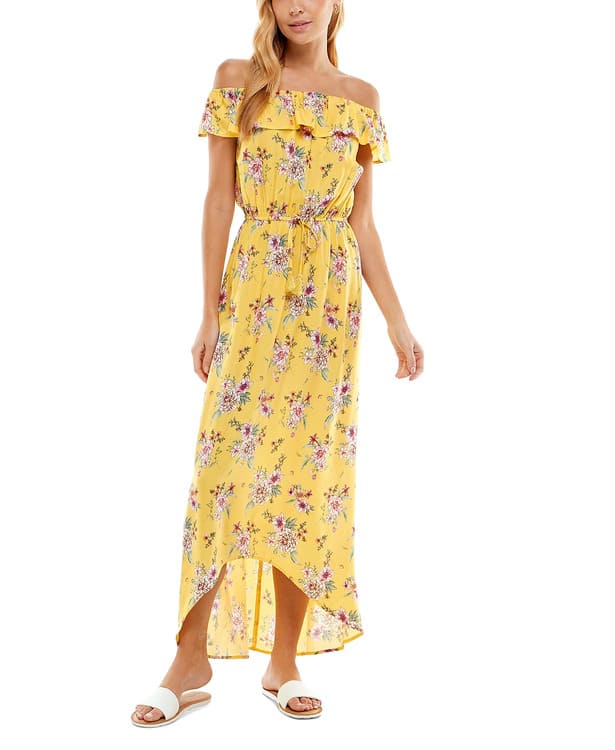 Dresses prices
Here are the prices of these dresses in order of appearance in the following list:
Juniors' Printed Puff Sleeve Sheath Dress: 38$ (discount of 65$)
City Studio Juniors' Tiered Babydoll Dress: 32$ (discount of 55$)
Floral Print Off The Shoulder Maxi Dress: 38$ (discount of 65$)
Juniors' Printed Tiered A Line Dress: 65$ (discount of 110$)
Juniors' Night Bloom Blouson Sleeve Maxi Dress: 45$ (discount of 76$)
Floral Print Smocked Dress: 79$ (discount of 133$)
Puff Sleeve Mesh Embroidered Dress: 78$ (discount of 134$)
Juniors' Printed Ruffled Fit & Flare Dress: 38$ (discuount of 65$) 
Juniors' High Low Off the Shoulder Dress: 30$ (discount of 54$)