Walmart, as is well known, is one of the largest and most popular markets of the United States, extending its reach as well as its popularity to other countries in the world, its product catalog is so large and varied that it is impossible to get to know it completely.
Among the products offered we find the Dreo Airfryer, a high quality air fryer that stands out among other things for its price which is quite affordable for all the details it offers, so here we will tell you a little about this product and the reasons why you should consider buying it if you still do not have an air fryer.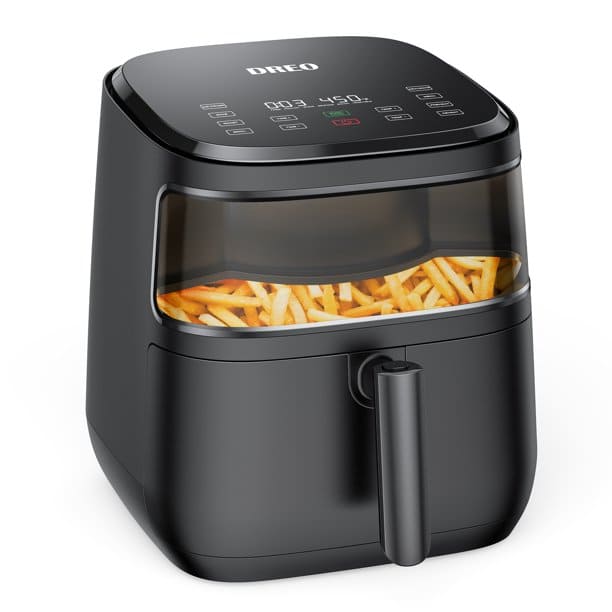 Dreo AirFryer
The Dreo Airfryer uses fast hot air technology to make it easier to cook your favorite foods, this fryer helps you to reduce oil or fat consumption by up to 99% so it is ideal for all those people who are looking to stay healthy and take care of their figure. In addition to this, it includes a smart LED display that is quite simple to use and will help you make your meals easier.
Most outstanding features
Insulated basket with double layer.
6 presets
5 cooking modes.
Temperatures ranging from 100 ℉ to 450 ℉.
Air fryer with a viewing window.
Includes a recipe booklet with more than 100 recipes for air fryers.
11 cooking functions.
LED touch screen display.
Shake reminder with 2 modes and up to 3 presets.
Double layer non-stick water-based coatings.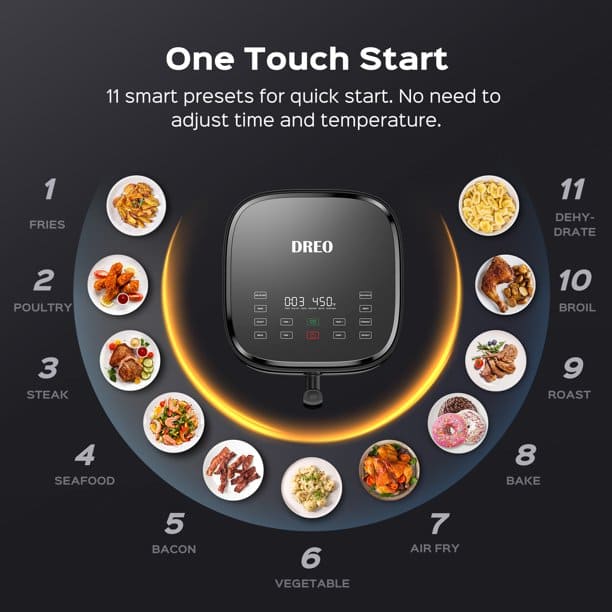 Benefits of the air fryers
Air fryers specialize in cooking fried food but with the particularity that they do not use oil when cooking, allowing you to have the same meals as always but with a much healthier touch. Among the main benefits of air fryers we get the following:
Reduction of up to 99% of the fat in our meals.
Faster cooking of any type of fried food.
Possibility to control the cooking level of each meal easily without the need to constantly check the food.
You can program the cooking of your food, helping you to have free time for what you want and more possibilities to tidy up.
Large air fryers allow you to cook a larger amount of food without using other utensils.
They do not emit unpleasant odors during cooking.
They are easy to clean and since they do not use oil, they do not stain or splatter.
Air fryers help you save on electricity consumption, especially if you use an electric stove.
Is it worth buying an air fryer?
Undoubtedly the Dreo Air Fryer we should consider buying if we do not yet have an Air Fryer at home, this is because of the many benefits that have this type of Air fryer, instead if you already own an air fryer, we recommend that you compare the features and consider changing it if the Airfryer you currently have is of lower range as the Dreo Airfryer offers great quality but also greater durability than most air fryers.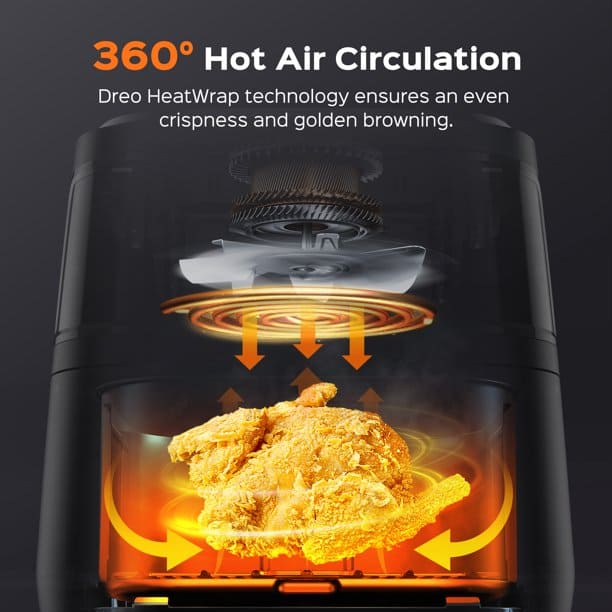 In addition to this, this Airfryer has a very competitive price which you can get at a discount if you have valid coupons. If you buy it through Walmart's website you can receive it at no additional cost in the United States and with a separate shipping cost if you are shipping outside the country.
In any case, AirFryers are gaining more and more popularity every day to the point of being compared to microwaves at the time when they were just becoming popular and are now an almost essential tool that we can find in many kitchens around the world, something that perhaps in a few years Air Fryers will be able to achieve as well.
Dreo Air Fryer Price at Walmart
Walmart has released this amazing modern air fryer to all its customers and you can get it for a price of only $109.99 with a 32% discount to its original price of $159.99.