Junk food is a product that is going to be in our lives whether we like it or not, if we realize what junk food involves: family, speed, taste, comfort. It also involves other types of things that we may not like as much as the fact that when we eat junk food we are eating an average of 2000 kcal, we must realize that 2000 kcal is the average that a person needs per day, between 2000 and 2500 is the recommendation for men, between 1500 and 2000 kcal for women, this data is given by the WHO.
Even if we eat junk food from time to time, it is important to know that we damage our bodies. Although some fast food and junk food restaurants at the same time sometimes have healthier types of dishes.
But that is not really the case, a Mcdonald's salad gives us the feeling that we are eating in the healthiest way, but even, we can be eating more sodium and more chemicals than a burger, Big Mac. Starbucks has some smoothies with a very high caloric power, they deceive you by saying that you are drinking a normal green tea, they add skimmed milk and you can get to be drinking a total amount of 550 kcal, as I mentioned before the average kcal estimated to continue with your same weight is very low, you can get to exceed that amount only eating a few meals of certain places where they sell junk food, do not be fooled!
Always think that they may be cheating you, and that the best thing is the plants, don't be confused when in the description of the food you put low fat, low sodium, low calories…
It's very important that when you go to order food you know exactly what you want and that you go with clear ideas, it's also important that you have the mentality of after ingesting those nutrients and fats you want to burn them, if you don't do it in the long run you can gain a considerable amount of weight.
These places that we are going to recommend are located in the United States and are the places where you can eat in the most healthy way.
White Castle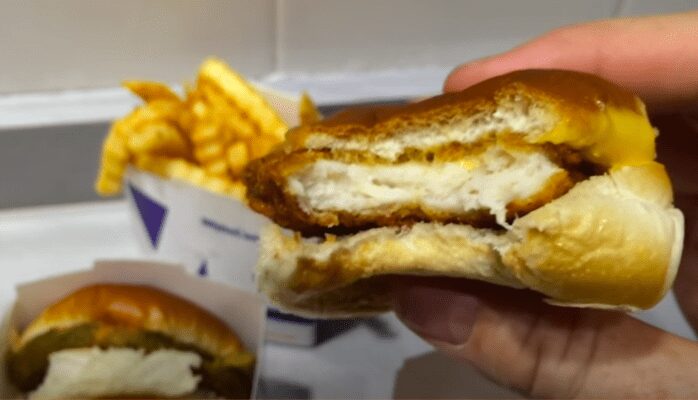 He has developed the fake meat burger, a vegan burger that competes against all meat burgers, and is priced at $1.99, a very good price for this type of ingredient. Apart from its price it is only 255 kcal.
If you are going to a fast food restaurant, White Tower is a very good option for you. You will take care of your food and you will eat for a low price, what else can you ask for?
Chipotle
Chipotle, if you have read correctly, you will be able to eat a food that normally contains around 1000 calories and you will do so in a healthy way.
What this restaurant takes advantage of is its way of eliminating the fried pancake, only with that pancake you save about 500 kcal. Don't overdo it with guacamole and cheese and you will be able to enjoy a good chipotle.
Subway
This great chain of sandwiches will help you eat anywhere in a healthier way, take advantage of it. I would recommend opting for a vegetarian option or a gluten-free or grain bread, add to your sandwich absolutely all the vegetables you want, this fact will only take you about 200 calories, which are very good for the food you eat, forget about the sauces if you want to maintain a low calorie intake. Mustard adds about 30 calories to your sandwich, mayonnaise adds about 100 calories.
Taco Bell
When you go to this restaurant it is important that you eat a taco of the style of some boneless ribs or a shredded chicken, other of the meals they have contain about 1000 milligrams of sodium. When eating chicken or steak you will consume about 150 calories per taco.
Burger King
First fast food restaurant to adopt a vegetarian sandwich in its food. Burger King's vegetarian sandwich is the healthiest sandwich on the menu today, having the fewest calories and 0 grams of trans fat. This burger has the same flavour as a normal meet burger. The BK vegetarian burger has 390 kcal, don't add mayonnaise or cheese if you add this you are going to increment de Kcal per portion and remember that you don't want that.