To dress elegantly you don't need to make up and wear a very perfect suit, there are many ways to dress well, you don't need to be anxious and have a hard time choosing what you want to wear for your day.
This way of dressing we can say that it has a lot to do with a suit and a tie.
As I said before, you don't need to wear a shirt and tie to be well dressed, if you choose quality clothes that look good, good colors, well-adjusted and made to your body, that don't look like you left them, this will always work to be elegant.
If you change your style from a shiny and terrifyingly classic suit to a style with a white shirt and nice silk pants you will be much better off. It is important to note that you can't always go with this more casual and elegant style, depending on where you work or the society you live in you are disciplined to wear other types of clothes.
Elegance is a very difficult subject to deal with so it is better to treat it with care, we will try to identify the most important features of a casual and elegant clothing.
The color and shape is very important for this type of clothing, the dark color like navy blue or gray are the most predominant in this world of elegance. If you have real blue or yellow in your closet, forget it, you can't make them elegant, an olive color with a blue and a beige is a good combination for your style, there is already your choice where to choose with these colors.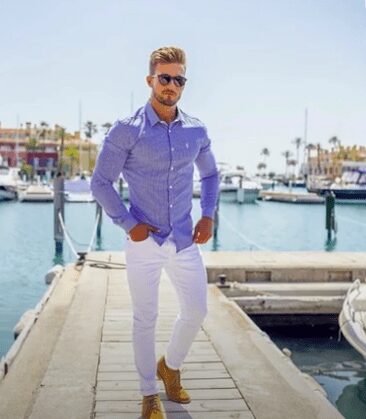 At this point, after explaining what you can and cannot wear, it is important to also explain why it is not clear to everyone, a checkered shirt will always be much more difficult to make elegant given the checks, they are not well seen within the world of elegance, a plain shirt will always look better. The same happens with a more sportive suit, we could say that it is not elegant, even if it is a suit, it will always look worse than other kind of suits.
The texture too. A knit shirt is an elegant way of dressing casually because its fall and smooth finish make it more elegant than a normal T-shirt. A navy blue knit shirt worn with cream ribbed pants is extremely stylish, but it feels a world away from a suit and tie.
A garment that has a nice fall and a good smooth finish will always be more elegant, an example would be a knit shirt. A garment that could serve as an example is a blue knit shirt with a beige touch pants, a perfect outfit for a fall season.
One of the most important points when it comes to dressing a man is the fit of his clothes, it is what is given more value when you look at a dress. It is very important, even if you go more casual as if you were wearing a suit.
It is always advisable the things to measure, although they are more expensive.
If you have a wider shirt and not so shaped if you combine it with a well-fitting pants and that you go well in length and width, you will always look more elegant.
The points that continue and are the most important to highlight are: the quality of the material, that looks artisan the clothes is also very important, the craft is used much in tailoring and that means that gives a touch more elegant because it relates to something of good quality and formal.
The way the clothes are taken care of is also related to a more formal aspect, this normally tends to refer to more expensive clothes, but the way that this product is treated is usually better, and that develops a better vision about the garment. A proper tear is very important.